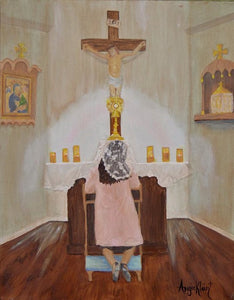 "St. Gianna" was inspired by a sweet, devout family in our parish. I asked permission to take a picture during Adoration of this sweet little girl Gianna as she poured her heart out to Jesus. It moved me so, I had to paint it!  The real Gianna is a great example of a "Saint in training".
All prints are made on Fine Art Lustre Paper, will come signed and are made to order.
St. Gianna can be printed on canvas, message me for details!