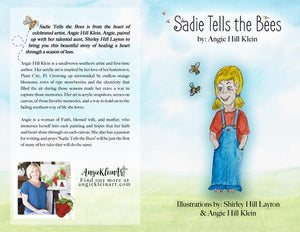 Sometimes help comes from the most unusual of places. When Sadie experiences her first loss, she discovers a family secret that awakens her faith. In
Sadie Tells the Bees
, celebrated artist, Angie Hill Klein, shares a heartwarming, coming-of-age story based on the old tradition of "telling the bees."
After Sadie's grandma passes away, Sadie finds herself following in the footsteps of those before her: confiding in the bees, learning how to cope with loss, and finding hope and peace in return.
Sadie Tells the Bees
paints a beautiful picture of the rhythm of life and the harmonious balance between nature and Sadie's family—the stewards of the land. Through the queen bee, we learn that changing seasons and loss are a part of life. Sadie encourages us to see the beauty, love, and blessings all around us. And most importantly, we learn that heaven and the people we've lost are always closer than we think.